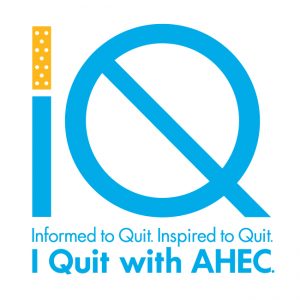 Logo Design – Creating a Brand
USF Area Health Education Center (AHEC) is an administrative office that has two nonprofit community centers: Gulfcoast North AHEC (GNAHEC) Gulfcoast South AHEC (GSAHEC).
USF AHEC is funded by the Florida Department of Health to train future health professions students and current health professionals about how to work with tobacco-addicted patients. They are also funded to run cessation groups to help people stop smoking. USF AHEC has two different programs, which are both offered free of charge.  The first is called Quit Smoking Now (QSN).  QSN is a 6-session program―1 hour per week in a group setting. The second is called Tools To Quit (TTQ), and it is a 90-minute one-time session.  Both programs offer free patches, gum or lozenges to help with the nicotine withdrawal symptoms that occur when people quit using tobacco.
"WHAT!?! I don't care, I just want to quit smoking!"
Creative Process
That's what we thought too, so we went to work on creating a brand that people who want to quit tobacco could easily identify with. First, it is important to note that AHEC operates in conjunction with Tobacco Free Florida (TFF). Since TFF has well established brand we want to piggyback off their success by choosing a matching color scheme.  Next, we began to brain storm with little game of free association. We won't bore you with the all the ideas that wound up in the trash can.
Here are the cliff notes on how our team came up with the "IQuit" brand:  We wanted the new logo to be culturally relavent, so we considered "iQuit" (Let's face it, Apple knows marketing-the company has more revenues than Exxon Mobile). But we decided that "iQuit" was just too  trendy, and it had the potential to render itself obsolete in the near future.  So we scratched the "iQuit" and started playing around with IQ. We liked the "IQ" and intelligence aspect it brought to the forefront. We knew we were on to something here:  Everyone knows smoking is bad for you, right? But a high IQ is not enough to get people to quit tobacco. We all know intelligent people who are addicted to nicotine. Further, an IQ is not something that is identified with smoking cessation, so we played with our IQ's.
We made the "I" look like a cigarette, and played with the  Q so it resembles a "not allowed" sign. We stilled needed a tagline to tie all the aspects of the design together.  Informed to Quit. Inspired to Quit. I Quit with AHEC.
The Brand, The Tagline, the Win!

Playbook Public Public Relations, LLC is proud to announce the "IQuit" brand was so well received that it has recently been adopted across the entire Florida AHEC Network.  That means our "IQuit" brand will be used in all of Florida's 67 counties!  Further, we ensured the successful launch of the "IQuit"brand by developing and redesigning www.ahectobacco.com, the Florida AHEC Network's website (more about that in another post).
The Florida AHEC network agreed that Playbook Public Relations, LLC was able to grasp the irreplaceable value proposition that the "IQuit" programs offer to Floridians who wish to break free of nicotine addiction.   Over the course of this fiscal year, our firm's marketing and PR initiatives helped USF AHEC reach its yearly program goals before the start of the 4th quarter.
An identifiable brand can increase your bottom line!