Event Marketing More Effective than Social Media…Really!!!

Everybody loves a party. Parties are a way to get together and celebrate something good and positive. People feel relaxed at a party, and there is usually a level of positive community experience.  You get to know people face to face when you are at a party, which is a great way to share your company message and grow your business.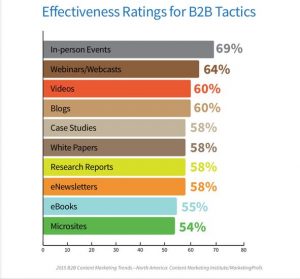 The bottom line is that even in this global, digital society people still like to buy from people. According to B2B Content Marketing Trends, in-person events are even more effective than social media. Hard to believe when you see the amount of time we devote to social media marketing versus event marketing. Look at the chart below and consider how you have been spending YOUR marketing budget…
So, how can you get the party started and grow your business? Here's how:
Celebrate Something Good Happening at Your Company
Think of the milestones you have hit that are worth spinning into a party, the progress your business has made, or something else that is special and noteworthy.
   Get People to Join the Party
Hosting a party gives you the ability to connect with your clients and customers via many different outlets. You can send an email blast promoting the event, post an invitation to attend on your social media channels, and add the invitation as new content on your blog and website. New content that people are interacting with is a great way to increase your SEO ranking with search engines.
   Follow-up After the Party
Again, another chance to connect. You can follow-up with the people who attended your event and even the people who did not with event photos posted to social media, another blog posting, pictures on your website and another email blast. You could even add a follow-up promotion to encourage sales since you already are in the forefront of their minds.
If throwing a party still seems out of your scope then get involved in someone else's event. By being a part of an event happening in your community, you still get the value of face-to-face time with people in your community and the ability to add content to your marketing channels.
You may think that only big companies, like BMW, can be a part of an event but not so, any company can be a part of event marketing and find real, lasting benefits. Party on!